Premiere
JANUARY 1999 -- BY A.J. JACOBS
The Farrellys of the Future?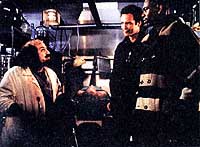 Scott Alexander and Larry Karaszewski aren't used to keeping directors' hours. "It's way too much work," says an exasperated Alexander from the Vancover set of their new film, tentatively titled "Pittsburgh." "You wake up really early and you get home at midnight and then you wake up at 6 a.m."


"Pittsburgh" marks the first excursion into directing for the Oscar-nominated writing team behind "Ed Wood" and "The People vs. Larry Flynt." The loosely plotted comedy stars Norm Macdonald (pictured above with an unidentified corpse, Dave Chappelle and Danny DeVito) as a chauffeur to a bitchy pie tycoon, played by Elaine Stritch ("Krippendorf's Tribe"). Beyond that, K&A -- as produce Robert Simonds ("The Wedding Singer") fondly refers to them -- have a hard time describing the rest of their script. "He kidnaps her dog," says Karaszewski, "and it winds up looking as if he's the one who's been kidnapped."


But cast members insist that K&A are plenty articulate when it comes to giving direction. "They speak with one mind," says Macdonald. "They're like married people. They finish each other's sentences and stuff." For Macdonald, the challenge wasn't dealing with rookie directors but enduring incongruous weather. Although the movie takes place during a dreary Pittsburgh winter, it was shot last summer in Vancouver. "It was 90 degrees, and I was wearing four layers of clothing," Macdonald laments. "But I'm an actor. You know how some people can cry on cue? I can exhale white stuff."


While the actors are pioneering new frontiers of Method acting, K&A were making good use of the directoral wisdom they've acquired from Milos Forman ("Larry Flynt") and Tim Burton ("Ed Wood.") "The material [in those movies] got silly at times," says Alexander, "but Tim and Milos played the scenes straight and the performances were real."


"The thing we learned," says Karaszewski, "is that playing the comedy with a straight face is better than playing it with a nudge in the gut." He adds, "And I speak with a Czechoslovakian accent, and Scott doesn't comb his hair."
© 1999 Premiere. All Rights Reserved.