TV Guide
SEPTEMBER 2003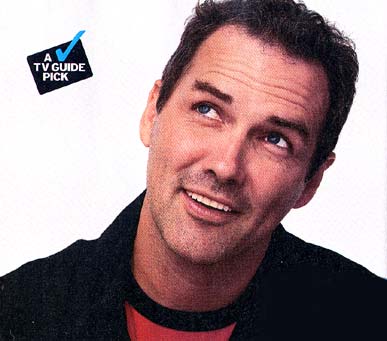 A MINUTE WITH STAN HOOPER

STARRING: Norm Macdonald, Garret Dillahunt, Brian Howe, Eric Lively, Penelope Ann Miller, Reagan Dale Neis, Daniel Roebuck, Fred Willard
Heartburn in the heartland
THE SETUP: TV Personality Stan Hooper (Macdonald) want to connect with the real America. So he and wife Molly (Miller) move from New York City to the Wisconsin town they've idealized since their honeymoon there.
THE TWIST: Wisconsin turns out to be more bedlam than bucolic. The locals are cheese-obsessed eccentrics, and, even worse, no one seems to know who Stan is.
WE SAY: Cheerfully absurd, 'Hooper' is something of a throwback to 'Newhart'.
THE OUTLOOK: The comedy is gentler than the usual Fox fare, so 'Stan' might need more than a minute to catch on.
And a moment with Norm Macdonald
Who is Stan Hooper based on?
He's like a Charles Kuralt or Charles Osgood. The guys that think they understand small-town America while they're having diner parties with William S. Paley. If those guys really had to live in small towns, they'd be miserable.
What inspired this show?
I think the greatest show ever was 'The Andy Griffith Show'. I was trying to think of a way where [like Griffith] I could give everybody else the jokes. That was a big difference from 'Norm', my first show, where I was kind of wisecracking.
Ever miss Saturday Night Live?
Yeah. I knew at the time it was the greatest job I'd ever have. I still watch it, I still love it. I've seen every one of them since it started.