The Vancouver Province
JANUARY 19th, 2006 -- BY GUY MACPHERSON
Norm re-dedicates self to standup
MacDonald says he's not much of an actor so he'll stick to his comedy act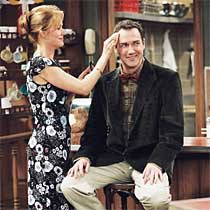 Long before Jon Stewart was the most trusted name in mock journalism, Canadian Norm MacDonald was skewering politicians and celebrities on Saturday Night Live's fake news segment, "Weekend Update."

MacDonald, who will be in town Saturday to play the River Rock Casino, was a cast member on the venerable sketch program from 1993-98.

The last three of which saw him as the sole anchorman on WU, before being unceremoniously dumped after pressure from a West Coast NBC executive who found him unfunny.

Some would argue that the show hasn't been funny since.

Not Norm, though. He still watches, even if the references are starting to go over his 42-year-old head.

"I've watched it since I was a kid, you know?" he says on the phone from his home in Los Angeles. "Only lately am I beginning to kinda not undertsand it. Maybe I'm too old or something. They're doing parodies of MTV shows. And there's a lot of singing and dancing lately, I've noticed, on the show."

MacDonald, whose older brother Neil is a real journalist on CBC TV, grew up in Quebec City but doesn't speak French.

"My father would never let me learn it because the English and the French don't like each other," he says. "So I took Latin in school instead. It didn't make much sense because Quebec City was virtually 99 per cent French and zero per cent ancient Roman."

After quitting high school at 15, he moved to Victoria where he lived at the James Bay Inn for a couple of years doing odd jobs, including a six-week stint at the post office.

"When those guys go nuts and stuff, I can understand it," he says.

After leaving the late-night institution, the former Yuk Yuk's comic starred in a handful of failed movies and two sitcoms.

Always self-deprecating, he says of his TV acting career, "I'm no good at it. I'm not really a sitcom actor" and of his movie Screwed, co-starring Dave Chappelle, "That was a tremendously bad movie, although the script was fantastic. But just me and Chappelle were so terrible."

About the only things he'll admit to being any good at are poker and, rightfully, standup comedy. He once won $175,000 US in an on-line tournament.

And although he's playing a casino here, it's his comedy act that's bringing him north.

"I've kind of rededicated myself to standup. That's what I'm best at and that's what I like the most."

His live act can include some salty language and dark topics, which can be troubling to an unprepared audience member.

"I don't want kids in the audience," he says. "I didn't realize this, but people know you from different things. They could say, 'He was a dog in Dr. Dolittle!' you know what I mean?"

He describes his routine as rough but not in any way mean-spirited. He'll talk about whatever interests him on a given day.

"Sometimes I do an absolutely clean show just for fun. And then," he admits, "sometimes I don't."

MacDonald's first CD is coming out in April. It will feature sketches with some of his old castmates, like Will Ferrell and Molly Shannon.