My trip to 'SNL'
OCTOBER 23, 1999 -- BY SEAN BRADLEY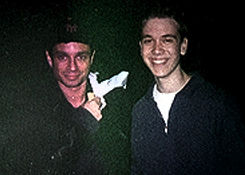 EDITOR'S NOTE: Sean Bradley of Saturday Night Live.com shares an account of his trip to see the October 23rd "SNL" hosted by Norm. An especially interesting revelation is that Chris Kattan did not boycott the broadcast, as we and others speculated.



Friday Evening -

My friend Ivan and I arrived at Rockefeller Center at 8:30 pm. and stood in the main lobby with several other die-hard "SNL" fans. We had a whole night of waiting in line ahead of us. You see, we received tickets in the mail (through the August lottery) to see the October 23 "Saturday Night Live" dress-rehearsal, but we were standing in standby line to get into the live show. After all, the host would be none other than Norm Macdonald (whom I fancy to be one of the funniest men alive). I was even semi-looking-forward to the musical guests, Dr. Dre, Snoop Dogg, and Eminem.
When we arrived we are told the cast members would head down the elevators and exit the building at about 10:00 pm. On their way out, I would, of course, attack them to get my picture taken with them. It was closer to midnight by the time they had all left. Ana Gasteyer, Chris Kattan, Tracy Morgan, Cheri Oteri, Chris Parnell, and Horatio Sanz all came down the elevator and left through the main exit. I got my picture taken with all of them except Gasteyer, who said she had only gotten two hours of sleep the night before and asked if we would be around tomorrow. We let her go (she definitely looked like she could use some sleep).
Former "SNL" featured player/writer Robert Smigel, who has for the past three seasons written the "TV Funhouse" cartoon segments and voiced many of the animated characters in them, came out of the elevator as well and I briefly chatted with him. He said he was there helping Norm write a skit. I asked if there'd be any "TV Funhouse" cartoons this season and he said there was one left (and it aired the following night). He said it wasn't one of the better ones. He really didn't seem to know what was next in his career...he mentioned that he had hoped to work something out where he could stay at "SNL" and also do cartoons for, I believe, Comedy Central, but he said that plan had fallen through. No mention at all of the animated late night show he was supposed to do for FOX starting early next year.
Conan O'Brien came in and out of the building several times -- Surprising since he wouldn't be taping another episode of his talk show until Tuesday. Conan seemed like a kind gentleman....he paused to take pictures with me and several other fans and signed Ivan's ticket stub from when we attended a taping of O'Brien's show in September.
After Lorne Michaels exited the building and 1:00 am rolled around, it became apparent that Jimmy Fallon, Will Ferrell, Darrell Hammond, Tim Meadows, Colin Quinn, and the next night's host, Norm Macdonald, had found other exits out of the building. Ivan and I decided to stop by a local McDonalds and get a bite to eat. Well, we were upstairs enjoying our respective meals, we looked over, and whom did we see sitting a few tables away but Penn! Penn from Penn and Teller that is. No one was bothering Penn and we didn't want to be the only ones pestering him, so we went to him and gave him a "hello" but didn't ask for autographs, pictures, or anything.
We got back to Rockefeller Center and heard that Norm snuck out while we were gone. Damn! But we met Penn.
Saturday Morning -
Stood outside the "Today" show briefly. Made my debut on the NBC network as they got a close-up shot of me outside when they went to commercials at about 8:00 am.
Got my standby ticket for the live show at 9:15 am. Ivan and I were numbers 3 and 4....not bad.
Saturday Afternoon -
Walked back into Rockefeller Center because we couldn't think of anything better to do with no money in New York. Chevy Chase came out of the elevator with an entourage of 14 year old girls. I asked Mr. Chase if I could get a picture with him real quick. He responded "No" as he casually walked away. A**hole!
Saturday Evening -
7:30 pm: A staffer at the show whose visited SATURDAY-NIGHT-LIVE.com nabbed Ivan and I seats on the 8th floor -- since there are only 36 seats down there, where all the action takes place, and you need to know someone to get a seat down there, we were honored. We took pleasure in looking back at some people we had met in the overnight line and waving at them as they sat in the balcony on the 9th floor.
7:50 pm: Don Pardo came out to get the audience clapping, then introduced Colin Quinn who warmed up the audience with some zingers.
8:00 pm: The dress-rehearsal began. Here's the rundown....
[COLD OPENING] Mayor Guiliani's World Series bet (2:40)

[OPENING MONTAGE] (1:35)

[MONOLOGUE] Norm Macdonald (2:15) - While Norm did say it during the live show, the phrase "God damn" was not present in the dress-rehearsal run-through of the monologue.

[COMMERCIAL] One Swell Dong (1:10) - This pre-taped commercial parody was cut after dress-rehearsal. In it, Eminem was the spokesperson for a Viagra-like product called "One Swell Dong."

[SKETCH] The McMullins house on trick-or-treat night (4:35)

[SKETCH] Celebrity Jeopardy (6:25) - This sketch started a few seconds late because Will Ferrell was getting his wig applied and Norm Macdonald didn't have any gum for his Burt Reynolds impression. He started saying, "Uhh...you got any gum," in his Letterman voice, and someone sitting near me in the audience gave him a stick of gum.

[SKETCH] Magician bum at restaurant (5:45) - Very forgettable sketch cut after dress-rehearsal. It featured Norm Macdonald as a bum who tried to perform magic while stealing food from Chris Parnell and Ana Gasteyer in a restaurant.

[SKETCH] Divorced Michael Jackson in bar (3:00) - Right before this sketch started, Norm was being a wise-ass to his female assistant. I guess she's the lady responsible for leading the host off-stage after a sketch to get costume changes done and leading the host back on-stage before a sketch starts. The assistant, trying to get Norm on-stage, whispered something rhetorical to Norm like, "Come on...what are you doing?" And Norm, trying to embarrass her, said loud enough for the entire 8th floor audience to hear him, "I hadn't seen Joe in a while. I was asking him what he thought." She said, "You don't have to yell." He responded, "I wasn't yelling." Norm then took the stage and stood at the bar. With a few seconds left before the sketch began, Norm asked (to no one in particular), "What's the point of this sketch again?" Jimmy Fallon's Howard Stern impression was no where to be seen in dress-rehearsal, and must have been a last-minute add-on for the live show.

[TV FUNHOUSE] Fun With Real Audio (3:30)

[SKETCH] CNN Crosstalk: How Thin is Too Thin? (5:15)

[SKETCH] Great Moments in Yankee History: Lou Gehrig (2:05) - Longer in dress-rehearsal.

[WEEKEND UPDATE] with Colin Quinn (10:00) - Cut from dress-rehearsal was forgettable commentary by O.J. Simpson (Tim Meadows) and Tracy Morgan (as himself). The Morgan commentary was a debate with Colin Quinn over African-Americans not getting treated properly. The joke was that while the two were polite to each other verbally, their real thoughts about the other's race appeared on-screen in text. The text was pretty long and didn't always come up at the right time so the audience wasn't very responsive.

[MUSICAL GUEST] Dr. Dre and Snoop Dogg with "Still Dre" (3:50)

[SKETCH] Larry King's News and Views #1 (3:00)

[COMMERCIAL] Martha Stewart Living promo (2:35)

[SKETCH] Larry King's News and Views #2 (1:50)

[SKETCH] The Crafty Vermonter (6:15) - Cut after dress-rehearsal. The sketch went on and on and on and on and the audience was rather silent for the majority of it. The sketch featured Rachel Dratch and Ana Gasteyer as hosts of a Martha Stewart-like show. Norm Macdonald (donning a wig and playing an older gentleman) was their guest. I had a hard time hearing this because of some talkative young ladies sitting behind me who, I believe, got seats on the floor because they knew Snoop Dogg. With some re-writing, I'm sure they'll try this bit again somewhere down the road.

[COMMERCIAL] The Royal Deluxe (1:35) - Cut after dress-rehearsal, this was just a rerun of the classic commercial parody from the the 70's with Dan Aykroyd pitching a car so smooth you can curcimsice a baby in it.

[SKETCH] Flying Monkeys (8:15) - Another sketch cut after dress that went on and on and on. This one featured a very elaborate set, lots of fancy make-up, a guest appearance from that "Tales From the Crypt" skeleton, and extremely un-memorable dialogue. I can't remember a thing about this sketch, other than the fact that I believe Chris Kattan was in it (many on the Internet have speculated that Kattan might not have shown up for work the week of this show because of his reported "feud" with Norm Macdonald). As I recall, the flying monkeys (who actually did fly) were played by Kattan, Tracy Morgan, and Horatio Sanz (who reminded me of Chris Farley when he was elevated into the air from time to time on "Weekend Update"). This sketch was actually scheduled to be the last sketch of the live show, but it ended up being a last-minute cut because of time.

[COMMERCIAL] Colon Blow (1:40) - Cut after dress-rehearsal....a rerun of the commercial parody from the the late 80's with Phil Hartman learning about Colon Blow and Super Colon Blow.

[SKETCH] Liddy Dole drops out (3:25) - Cut after dress-rehearsal. Elizabeth Dole (Ana Gasteyer) is in her living room with husband Bob Dole (Norm Macdonald). Liddy talks about why she had to drop out while Bob just wants to have sex with her. One of the funnier moments came when Norm, as Bob, ad-libbed, "Come on! Bob Dole's about to fuck the couch!"

[MUSICAL GUEST] Dr. Dre and Eminem with "Forgot About Dre" (3:50)

[SKETCH] Bravo's Actor's Studio with Clint Eastwood (4:50) - During the live show, Norm said, "I've met some God damn dirty sons of bitches in my day, and I have met some dirty God damn sons of bitches, but you sir are without a doubt the God damndest dirtiest son of a bitch I ever have met." Did the writers change that, or was that Norm's doing? In dress-rehearsal, the line was, "I've met some dumb sons of bitches in my day, and I've met some dirty sons of bitches, but you sir are the dumbest dirtiest son of a bitch I ever have met."

[COMMERCIAL] Chess For Girls (1:15)

[SKETCH] Soft touch (5:05) - Cut after dress-rehearsal, this sketch was actually not that bad. Norm's character was a drug dealer who let people give him their babies in exchange for crack. At one point, Norm's wife (Ana Gasteyer) tells him this is something he shouldn't be doing. Norm then has a moment when he thinks to himself about his wrong ways .... we hear Norm's pre-recorded voice talking about how what he's doing is wrong and then the voice says, "Maybe Don Ohlmeyer was right. Maybe I'm not funny. Wait a minute, back to this sketch." That line, and the fact that Tracy Morgan's baby was white, gave me some chuckles.

[CREDITS] (1:30) - The cast seemed to distance themselves from Norm. Except when Norm accidentally put his arm around Tracy Morgan and said, "I'd like to thank Dr. Dre," then looked at him and said, "Wait a minute, you're not Dr. Dre." Other than that, no hugs and no hand-shakes between Norm and the cast.
10:10 pm: Dress-rehearsal ends. The friendly "SNL" employee who got Ivan and I seats on the floor gave us a complete backstage tour, took our pictures on the stage where the host does the monologue, introduced us to a friendly Don Pardo, and invited us to stand around backstage for the live show.
11:00 pm: Backstage.....
Tim Meadows put on a suit and prepared to introduce Mayor Guiliani (Darrell Hammond) in the cold opening. The Meadows intro was not in dress-rehearsal and I saw Tim being briefed on what he should say.
Adam Sandler walked right by me. He slapped hands with Horatio Sanz and hugged an older lady who has probably worked at "SNL" since his days as a cast member and then he headed into Norm's dressing room.
11:30 pm: The live show began. Colin Quinn sat in the props room to watch Norm's monologue. While he wasn't laughing out loud, he did seem to be smiling.
12:00 pm: Ivan and I were told we don't belong backstage by some security guard and ordered to hit the road. While it wasn't the best way to end the evening, we had gotten two hours backstage, rubbing shoulders with just about every single one of the cast members as we were right by their Quick Change booths.
So, there you go folks. I strongly recommend seeing the show in person if you ever get the chance...it was one hell of an experience. Ivan and I thoroughly enjoyed ourselves! And if you ever pass by Chevy Chase, give him the finger for me.
This report was generously provided by Sean Bradley -- we're mighty grateful.
Be sure to visit Sean's site.