American Music Awards
JANUARY 17, 2000






| | |
| --- | --- |
| | Monologue |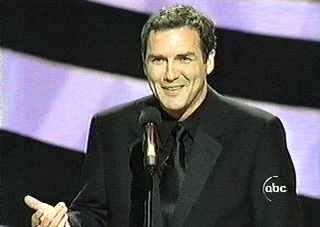 All right. Well, this is exciting. Thank you, and welcome to the American Music Awards.



This is exciting. I'm not actually in music. So let me introduce myself. To those of you who don't know me, I'm Norm Macdonald...for those of you who aren't familiar with me [ applause ]...thank you very much. I'm the biological child of Melissa Etheridge and Norm Crosby. [ Laughter ]



That's the big news in music right now. Melissa Etheridge asked her friend David Crosby to be the biological father of her children. And ya'know, this was a new experience for David Crosby. Usually when David Crosby picks up a turkey baster, there's a turkey in the vicinity. [Laughter] [Applause] He's a fat guy.



This is the "27th Annual American Music Awards." It's the first American Music Awards of the new millennium, and we're setting a [ applause ] -- yeah, very exciting. We're setting a big record here tonight. Three straight hours of ABC programming without Regis. So that's kind of exciting. [ Laughter ] [ applause ]



Before I did this show, I never realized how much work it took to put on a production like this. Check it out. They spent two months building all these incredible sets. They had to coordinate 14 live music acts and, most impressive of all, they had to find a seat filler for Jennifer Lopez.



[ Boos ] what was fuck was that? Maybe you guys are right, maybe she doesn't have a gigantic ass. I stand corrected.



[ Laughter ] it's been quite a year in music though. A lot of classic songs have been covered this year, haven't they? Lenny Kravitz did "American Woman." [ Cheers and applause ] Dwight Yoakam did "Crazy Little Thing Called Love," and Barry Manilow released an album entitled "Manilow Sings Sinatra." I'll tell you, it is a great CD or, as I like to call it, it is a great coaster. [ Laughter ] I like to throw my drinks on that. It's not a good CD at all. [ Laughter ]



And y'know with everyone so obsessed with their careers now a days in music, y'know what I mean? Here's a kind of a nice story. Celine Dion is retiring from music to try to start a family. And I think she's serious about it. I just saw her backstage chasing David Crosby with a bucket and a copy of "swank." [ Laughter ] so I think she's serious about it.



We've got a big show. So let's get it going, yeah. [ Applause ] Here are our first presenters. As Dr. Frasier Crane, he's achieved stardom in TV. And with hits like "Come to My Window," and "Angels Would Fall" she's achieved stardom in music. But they have one thing in common. They both love the ladies. [ Laughter ] Please welcome, Melissa Etheridge and Kelsey Grammer. [ Applause ].



MELISSA: You put it in the -- you put the juice in the thing. Your juice in there and then you squeeze it out and you bake it about 350 for about 4 -- Oh, hi!









| | |
| --- | --- |
| | Indian Names |


The name Shedaisy comes from the Native American word for "my sisters." It's kind of like that other Native American band Chumbawamba, which means "thanks for that one song". [ Laughter ] ladies and gentlemen, Shedaisy right here.









| | |
| --- | --- |
| | Puff Daddy |


Okay folks, before we continue I have an announcement from the management. Would the owner of a glock nine with the inscription "to puffy with love" please pick up your gun. It's at the hospitality suite.









| | |
| --- | --- |
| | Latin Music Explosion |


Well, 1999 was a big year for Latin musicians [ Applause ] and Atlanta Braves pitcher John Rocker thinks they all suck. [ Laughter ] He especially hates our next performer and has never bought any of his 13 consecutive number-one Latin singles or any of the 17 million albums he's sold [ Applause ]. So if you're watching, John Rocker, this would be a good time to hit the can [ Laughter ]. For the rest of us, here he is -- Enrique Iglesias [ Applause ].









| | |
| --- | --- |
| | Garcia, Who? |


That's a coincidence because I did that song in a karaoke bar the other night [ Laughter ]. That's one of my favorite songs. I was just talking to Dre backstage. I don't know if he's a real doctor, but he did prescribe me some stuff. [ Laughter ] and that leads us into our first special merit award of the night. Ladies and gentlemen, for nearly 30 year, our next presenter toured the country with his band, The Grateful Dead, playing guitar to sold-out arenas of the tie-dyed hippies. Please welcome the late, great Andy Garcia. [ Cheers and applause ]









| | |
| --- | --- |
| | Tommy Lee |




Well, I'll tell you, it's nice to be back on stage out here, y'know. I don't want to say my dressing room is small, but Tommy Lee just dropped by to visit, he shook hands with Carmen Electra, he blew out a wall. [ Laughter ] he's got a huge -- anyway.









| | |
| --- | --- |
| | The Judds |


I didn't know the Judds were back together. Did you know that? I just saw them -- I just saw the Judds backstage [ Applause ]. Yeah, you're big Judds fans? I just saw the Judds backstage chasing David Crosby around with six mason jars [ Laughter ] and a ham sandwich tied on a fishing pole. I don't know what it means [ Laughter ].



Our next presenters are talented young stars who became overnight sensations with their brilliant debut albums. And if I can take this moment to offer a little friendly advice, kids, whatever you do, when you put out your next albums, don't suck.









| | |
| --- | --- |
| | Kenny G |


Yeah, Savage Garden. That was great. They didn't seem as savage tonight as usual, to me.



You know, folks, it's time for our next presenters. For a long time there's been a rivalry between west coast rappers and east coast saxophone players [ Laughter ]. But tonight, they have put their differences aside to be here. Please welcome Warren G and Kenny G.









| | |
| --- | --- |
| | Lone Star |


Our next performers took their name from the nickname of their home state. They picked Lone Star, because the other nickname for Texas was already taken by that other band Alabama [ Laughter ]. Ladies and gentlemen, Lone Star.









| | |
| --- | --- |
| | Big Ricky |


Well you all know our next two presenters. When he was on the show "Silver Spoons," he went by the name of Ricky, but he's all grown up on "NYPD Blue," and prefers to be called "Big Ricky." [ Laughter ] she is an exceptionally gifted singer and songwriter by the name of Amy Grant, although she also prefers to be called "Big Ricky" oddly enough. [ Laughter ] Ladies and gentlemen, big hand for "Big Ricky" Schroder and "Big Ricky" Grant.









| | |
| --- | --- |
| | Creed |


Yeah. Too bad Ricky Martin won. The other two people were here. [ Laughter ] Well, our next group has had a song on the top of the rock chart for 18 weeks. In fact, they had four number one singles off their debut album, "My Own Prison." That's more than talent. That's pure dumb luck. Here they are, Creed!









| | |
| --- | --- |
| | Bare Knuckle Fight |


Well, tonight we brought together three of the hottest top ten singers and we put them together on this stage to participate in a bare knuckle fight to the death. Here are Tyrese, Jessica Simpson and Julio Iglesias, Jr.









| | |
| --- | --- |
| | Old Dirty Bastard |


It's getting more and more exciting, it's getting exciting backstage too, I'll tell ya, all the big stars back there. You know who I just met backstage? I met Old Dirty Bastard and [muted out] backstage. Charming couple, the bastard [muted out] was Old Dirty and [muted out] bastard, very nice.



Anyway, is time for our next presenters. Y'know the biggest stars in comedy are recognized by just their first names, that's right -- Johnny, Lucy, Rodney. Ladies and gentlemen, please welcome Bill Maher and Caroline Rhea.









| | |
| --- | --- |
| | Payment For A Job Well Done |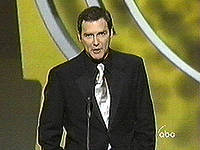 Well, this is it. The last award of the night. That's right. In about five minutes everybody here is going to be at a big party. And in five minutes, I'm going to collected my $200 paycheck and get my soothing back rub from Dick Clark. [ Laughter ] The back rub was the deal breaker.



Here to present the award for favorite male country artist is the first lady of country music, the great Reba McEntire.

Thank you Will D for transcribing this appearance.