FakeNews reader Alon posted on our Forum that the Laugh Factory is now saying Norm's show for Saturday night has been canceled. A call into their reservations line confirms this.
Norm did go on stage Friday night, but for unknown reasons has decided not to Saturday.
If you were at Friday's show could you please write me an email letting me know how it went? You know, so we can maybe get some clues as to why he's not showing up tonight.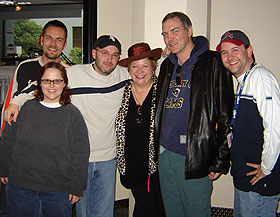 Norm with the Live 105 crew
After over five years of running FakeNews.net, I finally got my chance to talk to Norm. This past Friday word came in on the FakeNews message board that Norm would soon be making an appearance on San Francisco's Live 105 radio station to promote his San Jose Imrpov gig. With the station's brand new online radio feed, I was able to listen in and call at the perfect time to see if I could talk to Norm.
Realizing that there'd certainly be tons of people calling in to the station to talk to him, I tried to explain to the call screener exactly who I was. After sounding a bit confused at first I attempted to sum things up by saying, "I'm essentially the president of the Norm MacDonald fan club." Well he immediately took to that and patched me into the conversation right away. It certainly got me to talk to him, but it kinda gave the wrong impression to Norm and the DJs.
The whole thing was recorded so you can either listen to just my conversation by downloading the mp3 here:
2006_02_17_-_Live_105_Steve_Calls_In.mp3
(3.5 mb)
Or you can download the entire radio interview with Norm by downloading this file:
2006_02_17_-_Live_105.mp3
(24 mb)
(right click and choose save as...)
So the one big thing I wanted to find out about was this new movie Norm's written. And he did give up some good details about it. The movie's called "Court Appointed Attorney". It's about an inept court appointed attorney who gets a big case, but ends up doing everything wrong. (However, we can assume that in the midst of doing things wrong he somehow gets things right and wins the case). Norm says he will not be the star of this movie, or any movie for that matter. But he did say he'd like to have a supporting role. The movie's been bought by a studio and there's currently a list of actors who have expressed interest.
So there you have it! I'm very glad to have asked that question. Seems like most of the things to ask Norm have to deal with the past. But I, and I assume most of you, really want to know about what Norm's got planned for the future.
Other questions that came up over the course of the interview led to some somewhat insightful responses from Norm…
Asked why he wasn't able to continue being the voice of Death on 'Family Guy', Norm responded, "I couldn't do the second one because I was doing standup, which is my first love and everything so they got Adam to do it."
Asked if 'Back to Norm' was a one time special or supposed to be a reoccurring thing Norm said, "I said I wanted to do something like the Chappelle Show, and so they said 'Why don't you do special?' and I said 'I don't want to do no half our standup on television', you know? So they said 'No, do a special' and I said, 'No I don't want to do no special.' So they said 'okay, you can do this thing' you know? So I did the pilot for this thing and then they put it on as a special!"
And when asked about being fired from Weekend Update for making fun of OJ he said, "Well, I wasn't making fun of his football ability, you know! I don't know... I figure you commit a double homicide people can poke fun at you!" … "What happened
allegedly
, I don't know if this is true, but the head of NBC, Don Ohlmeyer at the time, was OJ Simpson's best friend. And uh, so uh, I mean, I admire the guy for sticking with him! And he always maintained that he was completely innocent. And uh, my God if he was innocent… he's really had a tough time."
So there you have it! It was great to talk a bit to Norm, and I look forward to our next mini-conversation in another five years from now.

Couple of Norm voice over gigs to talk about. First, he's been appearing in a series of commercials in Canada pitching Bell Canada. The commercials feature "Frank and Gordon", a couple of beavers who have successfully landed a gig as Bell Canada's new spokes people/animals. You can watch the commercials at the Frank and Gordon webpage located here:
www.frankandgordon.ca
Check them out. They actually do manage to have a few good Norm-esque moments in them.
Also, Norm's name has come up attached to a new Flash Animated Christmas movie in development called "Who Stole Santa's Sack". I'm guessing it'll be done in time for this Christmas season since Flash animations take like three weeks to make. For more info on this project visit this link:
www.comingsoon.net

So first the good news. Remember that whole "Norm Comedy CD" business that's been talked for years and years? Well Norm brought it up again in an interview with the Vancouver Province given to promote his standup gig there. The standup CD is slated to come out in April and will also feature skits by Will Ferrell and Molly Shannon.
Also in the article Norm talks about still watching Saturday Night Live, his old job at the post office, and… I don't know, other stuff. Just fucking read it yourself. Here:
http://www.fakenews.net/archive/articles/2006_01_19_vancouver.html
And the bad news is. You may have noticed that I no longer offer the NORMedia DVDs by paypal anymore. But sadly I'll also have to stop offering the FakeNews AIM Server. I'll be moving in with some roommates soon and I can't with good conscience use the household internet connection for the AIM Server. It takes up way too much bandwidth. So February 18th will be the last day.
I assume there'll be a mad rush of downloads in the next few weeks, so I'll again be following the "shut down the server if more than five people are downloading" rule I implemented when the AIM server first came out.
If there anyone out there that's willing to have a computer dedicated solely to running the AIM server for me, I'd be glad to take you up on the offer. Email me at editor@fakenews.net. Otherwise, please everyone pitch in and start offering this stuff on Limewire, Bearshare, Porn4all, or whatever the hell programs are out there now.